In America there are few Thanksgiving traditions and customs which everyone follows across the world but then there are few countries that have developed their own traitions.
Thanksgiving Customs
These Thanksgiving customs stem from the history attached to this occasion and the beliefs and traditions which are at the root of this celebration. Thanksgiving is a very popular festival in America and the Thanksgiving customs are followed with great fervor and dedication.
There are various Turkey day customs and traditions that are followed on Thanksgiving. The main and most important of these customs is that of praying to God and expressing gratitude to him for all the food and abundance He has blessed us with. For this, people go to the church and attend masses which are organized on this day. Even on the dinner table, before the meal is begun everyone prays to god for the meal that He has blessed them with. Find few Thanksgiving prayers here. Another important and popular custom is that of the Thanksgiving meal that everyone enjoys with true liking. All members of the family and close friends are invited for this Thanksgiving Dinner. Great dishes are prepared and everyone looks forward to enjoying this amazing food.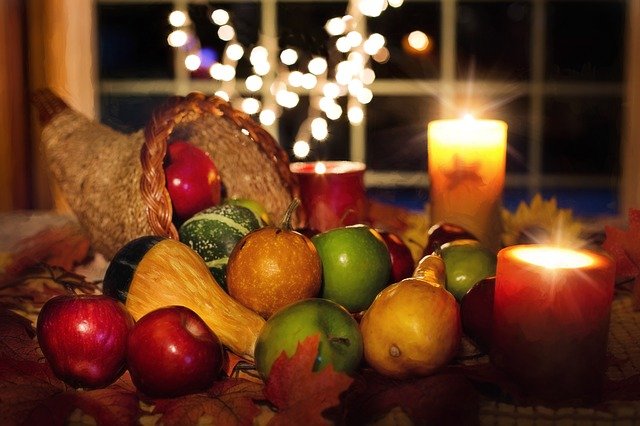 Decoration is another important facet of this day of Thanksgiving. It is custom which is followed by everyone hosting a Thanksgiving meal. Cornucopias (a symbol of plenty consisting of a goat's horn overflowing with flowers, fruit, and corn), centerpieces, ivory candlesticks etc are used to decorate the house and the dining table which then look amazing and perfectly set for the celebration of Thanksgiving. For those who cannot be invited to the Thanksgiving dinner or have gone away for the extended weekend, sending Thanksgiving messages is another custom which is followed by everyone. Messages of love and gratitude and deep-felt feelings are sent to them to convey the best wishes wherever they are. With such customs and traditions, Thanksgiving truly is an American festival and a reason to celebrate.
Thanksgiving Traditions
There are various Thanksgiving traditions and customs which are followed every year since the First Thanksgiving. These Thanksgiving traditions are cooking Thanksgiving meals , Praying to the God and expressing our gratitude, Family Reunions, Sending greetings and cards, Macy's Thanksgiving day parade
A very important one of the traditions and probably the most loved too is the savoring of turkey in the meal. Turkey dishes usually form the main dish on the occasion of thanksgiving. The dish may be in various recipes and there are specialties too which come from different places. These include coffee-rubbed turkey which hails from Hawaii. New England provides for the salt encrusted turkey whereas deep fried turkey has its origin from the south.
Playing Football is also almost considered to be a tradition on the day of thanksgiving. Almost the whole nation enjoys the game of football as one of the thanksgiving traditions. There are matches between local teams, clubs, etc which are enjoyed by everyone. Parades on the occasion of thanksgiving are also a great tradition that everyone greatly enjoys. Balloons fly here and there and there are bands and floats which make the occasion very colorful.
A very important one of the thanksgiving traditions is making a wish with the turkey wishbone for which people are usually seen fighting for. The one who gets a greater part of the wishbone gets to make the wish and it is considered to be very lucky.
At the last but not the least , thanking the Lord for his grace and also for prosperity which He has blessed everyone with. These great traditions of Thanksgiving make it a cherished day of the year.
Traditional Feast
There are no rules for your Thanksgiving menu You don't have to eat turkey or make your grandmas favorite casserole. Mix it up, take risks, customize, and add a flavor you know everyone will love. Also, there's nothing worse than being on a diet on turkey day with no healthy options in sight. So make sure you take the dieters in your group into account. This year make everyone feel comfortable and thought of and only hold onto those family traditions that make you happy!