There is special relevance of Thanksgiving in the Bible. We have collected some very toughing Bible verses for Thanksgiving. Lets us know about Thanksgiving thoughts in the Bible through Thanksgiving Bible verses.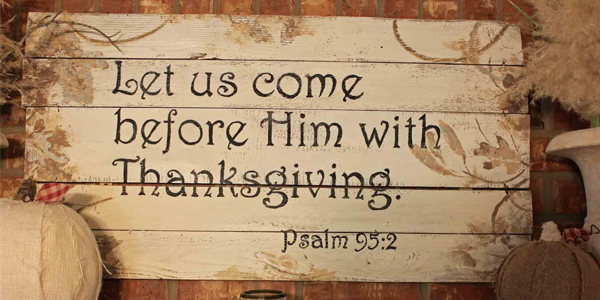 The Bible is the most sacred text, which associated man to God through love, faith, forgiveness and Thanksgiving. There is a special relevance of Thanksgiving in the Bible. Thanksgiving Day also is the day to express gratitude towards each person who is connected with our lives.
The Bible says that each day we should be thankful to feel the love of God. There are several Bible verses for Thanksgiving that open our hearts to the Holy Spirit. Let us know about your Thanksgiving thoughts in the Bible.
Bible Verses for Thanksgiving
Psalm 106:1- "Praise ye the Lord; for he is good: for his mercy endureth forever."
This means that we should thank God everyday and for everything because he is merciful. By giving thanks to Him you will never feel away from God.
Phil. 4:6 – "We tell God our problems, making our requests known to Him with thanksgiving."
This means though Thanksgiving we can offer our prayers to God who will know what are our problems.
Thessalonians 5:18 – "In every thing give thanks: for this is the will of God."
This verse talks about the power of faith and thanksgiving. It says that you must believe in God's will and should trust Him because only He knows what is good for you. Once you will start trusting his will you will give thanks for everything which happens.
Psalms 50:14 – "Offer unto God thanksgiving; and pay thy vows unto the most high"
According to this Thanksgiving thought in the Bible it is believed that God commands us to be thankful so that we are humble enough to offer our gratitude towards the Almighty who protects us.
Psalms 92:1- "It is a good thing to give thanks unto the Lord, and to sing praises unto thy name, O most High"
In this Thanksgiving Bible verse, thanksgiving is believed to be a good thing and this habit of thanking and praising lord should be inculcated.
Colossians 3:17 – "And whatsoever ye do in word or deed, do all in the name of the Lord Jesus, giving thanks to God and the Father by him."
This verse shows the strength and power that Jesus provides to all the people who believe Him and thus, it is said that whatever we do, we do it though Jesus. So, we should thank him for loving us.
Psalms 140:1 – "Surely the righteous shall give thanks unto thy name: the upright shall dwell in thy presence."
This beautiful verse from the Psalm tells us about the power of Thanksgiving. It says that if you are thankful to God then he will always be with you. You can feel His presence by giving Thanks.
Thanksgiving does not only bring us closer to the people but also to God. Share these Thanksgiving thoughts in the Bible with your friends and make you life more beautiful.